Civil Construction Vacuum Excavation
In civil construction vacuum excavation is setting the standard for safe efficient working practices. Due to congestion and underground infrastructure in cities, vacuum excavation minimizes the risk of damaging utilities which positions are often inaccurately marked or unknown. Intake hoses can reach to wherever the work needs to be done, making it much simpler than conventional equipment which is heavy and consumes plenty of needed space. The process is fast, precise and because the material being removed is being pumped into a container or piped off-site there is much less clean-up in the working area. Suction excavation eliminates the need for costly and time-consuming manual labour making the process safer and positively affecting the projects bottom line.
IVAC's specialized Material Transfer Systems Equipments' low profile vacuum/delivery units are able to safely remove materials from behind TBM (Tunnel Boring Equipment) and place them wherever you want them on the jobsite. IVAC's powerful vacuum equipment is unique in their design that is intended for specialized projects and operations.
The MTS's job is to remove the spoil from behind a tunnel boring units bit and sends the material short or long distances to where you can safely store and dispose of. There is no need to have a costly vacuum truck or an unreliable augur system to move out your material. IVAC's units have worked in the frozen North to very hot locations as found in the Middle East, so whether you are in Canada's far North or on the Equator, you will find IVAC and their specialized equipment safely providing high productive rates and ultimately saving our customers money.
Vacuuming Contaminated Water in a Tunnel
Vacuuming up and discharging contaminated water and shotcrete re-bound in a tunnel rehabilitation project. The real story is that the powerful vacuum/delivery unit is over 5,000 feet from the contaminating source!
In this project the PV500DBBl is being used by a Class "A" Mining and Tunnel Contractor to vacuum-up and send out possible contamination materials like process water, tool & mixer clean-up and wash-down water and shotcrete re-bound to high pH contaminants so the semi-liquid and liquids can be isolated from ground water flowing through the tunnel workings.

Photo showing the tunnel portal exit and the IVAC PV500 Double Venturi machine which is located 5,000 feet away from the pick-up area inside the tunnel.
IVAC's powerful vacuum/delivery equipment is being used on the project to vacuum up clean-up water and re-bound inside the tunnel so that these contaminants do not get into the water naturally flowing through the tunnel. By using this method the Contractor and the tunnel Owner are saving to having to treat the ground flow water inside the tunnel that amounts to a steady flowing "creek" on the tunnel floor. This would result in huge treatment costs when only the water being utilized on the project is needed to be captured & independently treated. Due to the tight workings the IVAC Vacuum equipment is required to sit outside the tunnel with the contaminated materials being vacuumed to it. The crews are presently working 5,000 feet farther inside the tunnel from the vac unit.
IVAC Provides Operator Training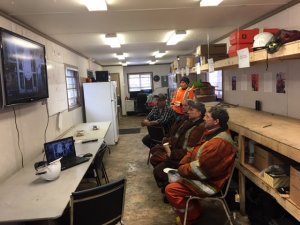 Ivac provides instruction on the set-up, operating and maintenance of our products. Various mining companies and vacuum end users prefer to have IVAC Technicians train customers operating crews ensuring a safe and productive project, right from the start!
With  IVAC technical personal, the customers employees are shown the safe and best way to set-up and operate the pumping equipment. In the industries that IVAC equipment can be found, crews are generally already of high caliber making the Ivac's technicians job  easier since it's more of needing to provide some basic instruction, mechanical explanations and safety tips covered in a 1/2 day class.
Vacuuming up Contaminated Water & Sludges
Come back soon to hear the rest of our story- this area is under construction. Contact your IVAC representative TODAY to learn about what our powerful pneumatic vacuum equipment can do to enhance your project! Phone 1-833-374-3738 or 250-374-3738.
Have a Question? Contact Us!
Fill out the form below and we will get back to you as soon as possible.